David Koch Escaped the Climate Hell He Helped Create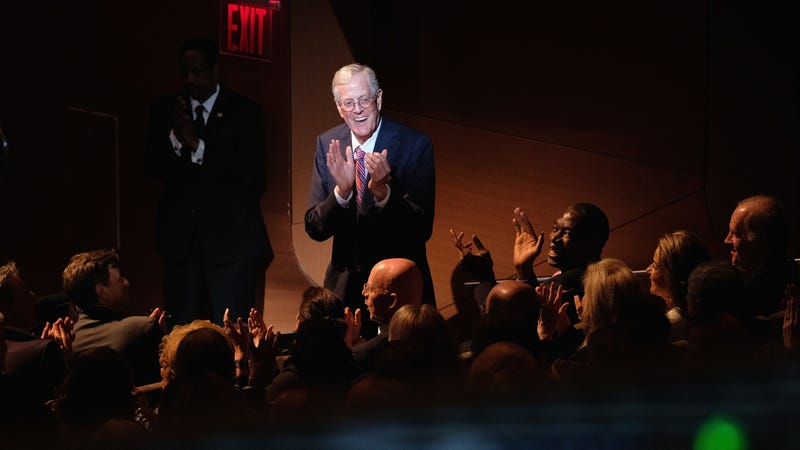 "If ratcheting up inequality were all the Kochs did, they would still be arch-villains. But the Koch brothers' businesses from fossil fuel extraction and refining to petrochemical and fertilizer production all rely on being able to emit carbon pollution with abandon. In the 1990s, as the world moved toward an awakening on climate change and the need to address it, the Koch machine moved to block any regulations or price on carbon that would cut into their profits by funding doubt and denial. Greenpeace estimates the brothers spent $127 million from 1997 to 2017 funding 92 organizations that muddied the waters on climate change, a move that helped make international efforts to combat climate change, like the Kyoto Protocol, worthless. They funded a network of overlapping climate denial organizations to kill a 2009 bill that would have created a cap and trade system, a very business-friendly climate solution they rejected on principle.
Now David Koch is dead. And he will never have to live with the consequences of his actions, all of which were for, I don't know, making a point as part of some libertarian 101 seminar or maybe just plain old greed. (You could argue the two are synonymous.) Ditto for the other largely anonymous small cadre of conservative billionaires and fossil fuel executives who have peddled climate denial over the years all while making the problem worse by extracting more poison from the ground and putting it in the atmosphere. They'll likely die long before things get really bleak, and the profits they made as one of the biggest market failures in human history will almost certainly ensure their descendants are insulated from the worst impacts.
"
more in the article by
Brian Kahn
David Koch Escaped the Climate Hell He Helped Create