Brazil: Bolsonaro fires key moderate who warned of dangers of 'extremism' | World news | The Guardian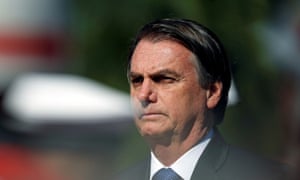 "
Bolsonaro loyalists and Olavo de Carvalho devotees celebrated the defenestration of Santos Cruz, one of the key players in what is seen as a comparatively moderate military faction with the administration.
"Santos Cruz has been relieved of his duties. The drinks are on me," tweetedthe Bolsonarian blogger Allan dos Santos.
But political observers voiced shock and concern that one of the more temperate characters around Brazil's far-right leader had been forced out."
read article by Tom Philips and Anna Jean Kaiser
Brazil: Bolsonaro fires key moderate who warned of dangers of 'extremism' | World news | The Guardian