After years in the wilderness, can Barcelona save the House of Neymar?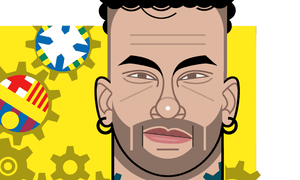 "The 11-year deal with Nike runs out in 2020, threatened perhaps by serious, unproven accusations of rape and assault. But presumably Neymar can still fall back on the support of Panasonic, Red Bull, Santander, Volkswagen, Mentos, Castrol, Unilever, McDonald's, Gillette, Listerine mouthwash, Police sunglasses, Lupo pants, Drakkar Noir perfume, Heliar car batteries and of course Tenys Pe, whom he has vowed to transform into "the world's No 1 foot deodorant". There is even a Neymoji phone graphic to convey the emotion of Neymarness. But what is that feeling? A sense, perhaps, of something lost along the way.
It is a part of football's basic resilience that you can coat it in this kind of industrial-scale corporate horseshit. The grabbing hands can pull it thin at the seams but somehow the game itself retains something uncontrolled and uplifting. It is perhaps Neymar's most startling achievement to date that a player who embodies exactly this in his skills and his heritage has instead come to represent something else; the co-opting of grace and beauty, the transformation of his own expressive talent into something that seems to belong to them and not to us."
read article by Barney Ronay
After years in the wilderness, can Barcelona save the House of Neymar? | Barney Ronay | Football | The Guardian
illustration David Littleton