Olympics media village built on 'sacred' mass grave of African slaves |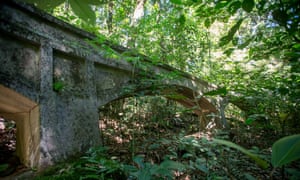 "The media village is a condominium – Grand Club Verdant – that will be sold to private buyers after the Games. The land was acquired in 2013 by the real estate developer Cyrela which felled hundreds of trees, destroyed a community football pitch and demolished the remains of the old slave owner's house and the slavery-era sugar mill in order to clear the area for construction.

The site has been the subject of some controversy for other, more recent, reasons. Last November public prosecutors rescued 11 labourers on the project who were being housed in degrading conditions."
read newsstory by Daniel Gross​ and Jonathan Watts​ <<

Olympics media village built on 'sacred' mass grave of African slaves | World news | The Guardian
: